This week I hosted Amandeep Singh aka 'Inkquisitive' at the EY offices in London Bridge as part of its Diversity & Inclusiveness initiatives through the EY Sikh Network.
Over the last year, the EY Sikh Network has aimed to provide a platform for emerging artists across a variety of mediums such as photography, film and spoken word to share their artistic work, connect with other artists and most importantly to inspire & educate guests in attendance that there is value in the creative industry.
Too often minority communities (especially the Sikh community) do not attribute a career in the creative industry as one of value or high standing compared to the usual suspects of medicine, finance or law and thus cripple the creative spirit within the community. Within the Sikh diaspora, I find the current situation pretty troubling given the fact the faith itself has a strong history and lineage with the Arts.
"At the end of the day, we're all artists, we're all expressionists. We need to realise that"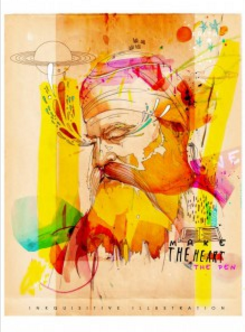 Inkquisitive is a perfect example of pursuing a passion & career in the Arts and the success it can bring. Since sharing his first piece of artwork on social media 5 years ago, he has amassed over 250,000 followers, toured the globe and has risen to the forefront of youth art culture, creating work that reflects a new movement of self-expression and experimentation.
Inkquisitive's UK exhibition started off with an evening exploring his 5 year career at EY with BBC radio host Nihal. The significance of this? It's the first time Inkquisitive shared personal details of his journey, not just his art. With an audience of 120 guests I hope it inspired people to consider pursuing their creative side whether this is for fun, to improve well-being or a full-time career.
We heard about the fear, uncertainty and anxiety of deciding whether or not to share his first piece of work and what finally convinced Inkquisitive to go public with his artwork, something many artists who spend countless hours honing their skills deliberate and worry over. We gained interesting insights as to how his parents influenced his artwork and the support he received to pursue a full-time career (quite rare in the Sikh community). Most importantly we heard about the journey of an individual who took a risk to follow his passion and love.
"I'm so glad I took that risk to go about this journey as an artist."
It was an absolute pleasure to host the inspiring young man Amandeep that is 'Inkquisitive' at EY and I look forward to supporting his UK exhibition.
You can view Aman's work at www.inkquisitive.com